After determining the technical requirements for the digital assistant, imc AG designed a functional and technical concept for it. Implementation was carried out as a browser plugin based on the performance support system IMC Process Guide.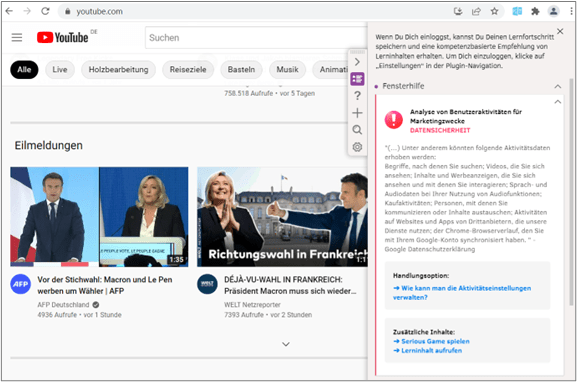 The browser plugin was developed for the most popular browsers Google Chrome and Microsoft Edge and extends them with context-sensitive features to improve digital literacy. The plugin's pop-up window (shown on the right) opens as soon as a supported webpage is accessed in the browser and shows users relevant risks and appropriate action options. While the risks list possible dangers of the website, the action options help young people with practical measures to minimize these risks. The instructions were developed from various guides and recommendations from online service providers and consumer protection actors so that they can be carried out step-by-step by users.
Further developments of the browser plugin for 2022 mainly concern the individual use and improvement of the tool. For example, the registration process is to be improved, enabling plug-in users to use the digital assistant individually on a voluntary basis. Registered users who have consented to the processing of their data will be granted access to their own usage data and how it is used. Based on their experiences and activities in the serious game and the browser plugin, an individual competence profile can be calculated and displayed for the young people. In this way, users can be optimally supported by tailored recommendations of learning content. The preparation of further learning offers that address the respective risk areas in more detail is one of the development goals for 2022. In addition, efforts are being made to set up an infrastructure that allows young people to use both Serious Game and Browser Plugin in an uncomplicated manner.